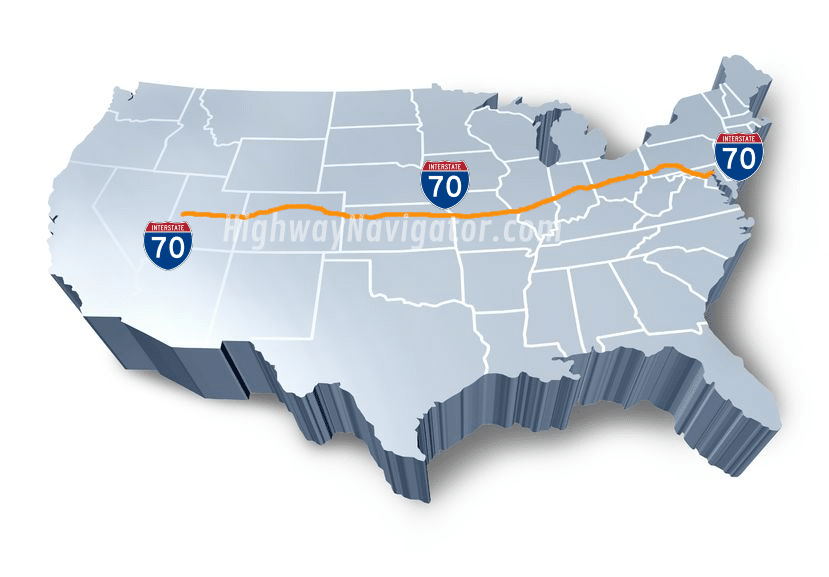 Interstate 70 is a major Interstate Highway in the United States that runs from I-15 near Cove Fort, Utah to I-695 near Baltimore, Maryland. I-70 approximately traces the path of U.S. Route 40 (US 40, the old National Road) east of the Rocky Mountains. West of the Rockies, the route of I-70 was derived from multiple sources. The Interstate runs through or near many major cities, including Denver, Kansas City, St. Louis, Indianapolis, Columbus, Pittsburgh and Baltimore.
The sections of the interstate in Missouri and Kansas have laid claim to be the first interstate in the United States. The Federal Highway Administration has claimed the section of I-70 through Glenwood Canyon, completed in 1992, was the last piece of the Interstate Highway system, as originally planned, to open to traffic.
The construction of I-70 in Colorado and Utah is considered an engineering marvel as the route passes through the Eisenhower Tunnel, Glenwood Canyon, and the San Rafael Swell. The Eisenhower Tunnel is the highest point along the Interstate Highway system with an elevation of 11,158 ft.